The Ricoh GR1 Film Camera Review
UPDATE 9/3/2018: As a companion to this 2015 review, I am adding a new video on the GR1 for those folks who enjoy watching videos more than reading, and yes, even though reading is better for your brain, I do understand the need for videos 🙂
If you're on YouTube, I would love to hear from you! Please don't forget to LIKE, COMMENT, SUBSCRIBE for new videos and updates. Thanks for your support!
The Ricoh GR1 is a 35mm point and shoot camera introduced by Ricoh in 1996. It was considered a high end or "luxury" point and shoot camera.
The GR1 came from a unique era in the mid to late nineties when manufacturers such as Leica, Nikon, Konica, and Contax put out several point and shoot cameras with high specifications, forever changing the way the lowly point and shoot camera was perceived. Ricoh's first entry into this market was the GR1, and while the luxury point and shoot cameras from all the manufacturers have their own cult following, the GR series might be right there at the top, or second only to the Contax T series in terms of following and reverence.
BUILD AND HANDLING
Among the GR1's many useful qualities, the best may be its size. It is small, light, thin, and truly pocketable which is one of the reasons why it was and is considered a great street camera.
As you know, the best camera is the one you have with you, and with the GR1, there's no excuse not to have it with you at all times.
This was especially relevant in the 90's, but maybe not so much today with the advent of high quality phone cameras now on the market. In fact, the phone cameras have largely replaced even digital point and shoots, let alone film versions. However, for the classical street photographer, film remains THE medium of choice.
The GR1's body feels lightweight with a mix of plastic, metal, and a magnesium alloy chassis.
While the camera is really a point and shoot, with programmed AE and aperture priority only, one of the things that made the GR1 stand out from your standard point and shoot cameras was the ability to control some aspects of the shot. For example, on the top right dial, you have "P" for programmed AE, and then your aperture selection, i.e., f/2.8, 3.5, 5.6, etc, etc.
On your top left, you have an exposure compensation dial that gives you plus or minus two stops.
The original GR1 and GR1s have no manual ISO selection. The GR1s added supposedly better coatings, a backlit lcd, and the ability to use filters, but is pretty much the same camera. The GR1V has it all, plus manual ISO selection, in addition to a few other features like a more flexible SNAP mode. Of course, you also have the GR21 with its super wide 21mm f/3.5 lens, but that's another animal altogether.
On the GR1, I will just use the exposure compensation dial should I need to make adjustments and it usually works fine for my purposes.
THE LENS
The GR1 is equipped with a super sharp 28mm f/2.8 GR lens. As a guy who lives at 50mm, I initially thought as many people do, that 28mm might be too wide for me. But I have been able to do portraits with it, and it's perfect for street work.
The lens is very good at f/2.8, but is extremely sharp from around f/5.6 and up. For a wide angle, the lens has very little distortion. Maybe some slight barrel, but not significant enough to worry about, especially for street work.
PERFORMANCE
Among the GR1's great qualities are its fast and accurate AF, and a SNAP mode where the camera will set focus for 2 meters or 6.5 ft to infinity, which cuts down shutter lag allowing for quicker shots. This was a very popular feature with street photographers, and Ricoh has kept this unique feature on every GR camera ever since, including the latest GR 16mp camera.
The camera, while stealthy in its look and size, is certainly not quiet. In a silent room, you will hear the motor advance. However, on the streets, this is generally not a problem.
ISSUES
The GR1, while certainly a classic, is not without its "issues." Main problem I have seen on these cameras is the fact that the top lcd goes bad. It's more common to find GR1's with bad lcd's than it is to find one with no lcd issues. Sometimes you will get a partially functioning lcd with missing segments. For example, you press MODE and you will get the "mountains" or infinity symbol, but press again and you're missing the SNAP symbol. Or you will get a partial frame counter or none at all.
This seems to be a problem on all GR1's, including the GR1s and the GR1v so inspect carefully before you buy.
This will indeed be a problem for many folks. It is too bad that Ricoh used some very poor lcd's much like the Contax cameras of that era. All lcd's can go bad over time, I understand that, but I definitely see this more with Ricoh and Contax. Surprisingly, the Canon EOS line had some of the most trouble free lcd's of cameras of two decades ago or more.
Another issue is the viewfinder indicators such as the framelines, and focus confirmation goes dim and in some cameras, are barely discernible.
The last and probably most troubling issue would be if the shutter or motor are dying. If this is the case, you can forget about it because Ricoh does not service these cameras any longer. You can usually tell these problems by a shutter that won't open or close, and a motor that gets progressively noisier.
All that said, the LCD issue which is the most common, is not really a make or break for me. As long as I can set the aperture, I'm good. I do not usually use SNAP mode anyway, and if in doubt, I'll leave it on "P" mode and pray 🙂
I try to remember that this IS a point and shoot, and if you use it that way, you will generally not be disappointed. At 28mm, you can usually get a sharp shot if you focus on anything five feet away or more. I only worry if I'm trying close portraits.
BOTTOM LINE
The Ricoh GR line is most certainly iconic. No doubt helped by the works of legendary Japanese street photographer Daido Moriyama who helped make using a point and shoot in the streets "hip."
If looking for one of these, prices are trending at $250-350 for the original GR1, $350 and up for the GR1s, and $450-650 for a GR1v, depending on condition.
The Ricoh GR1 is a Camera Legend, and a legend of the streets. It is THE superstar point and shoot camera of street photography. If you can find a rare flawlessly working one, or can live with its known "issues" you will have a very special camera that will reward you with the ability to take fantastic shots in a small and truly pocketable form.
***DEAL ALERT***
Save $100 on the HOT Sony A6000! Use the link to buy from our safe and trusted affiliates. You will pay nothing extra and support Camera Legend at the same time to help us fund more reviews and articles on the cameras and lenses you want to see. The gear other sites neglect are the ones we want to write about for you! Thanks for your support.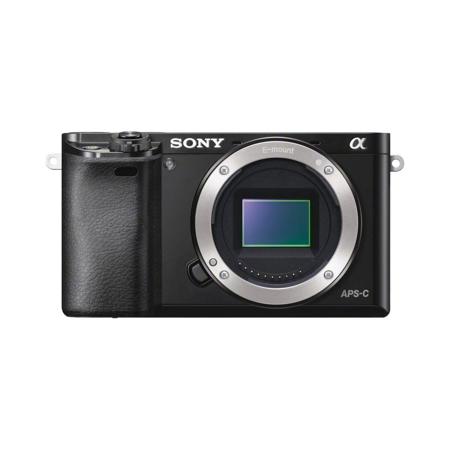 Alpha A6000 Mirrorless Camera Body, Black$448BUY NOW

The Incredible New Fuji X-H1